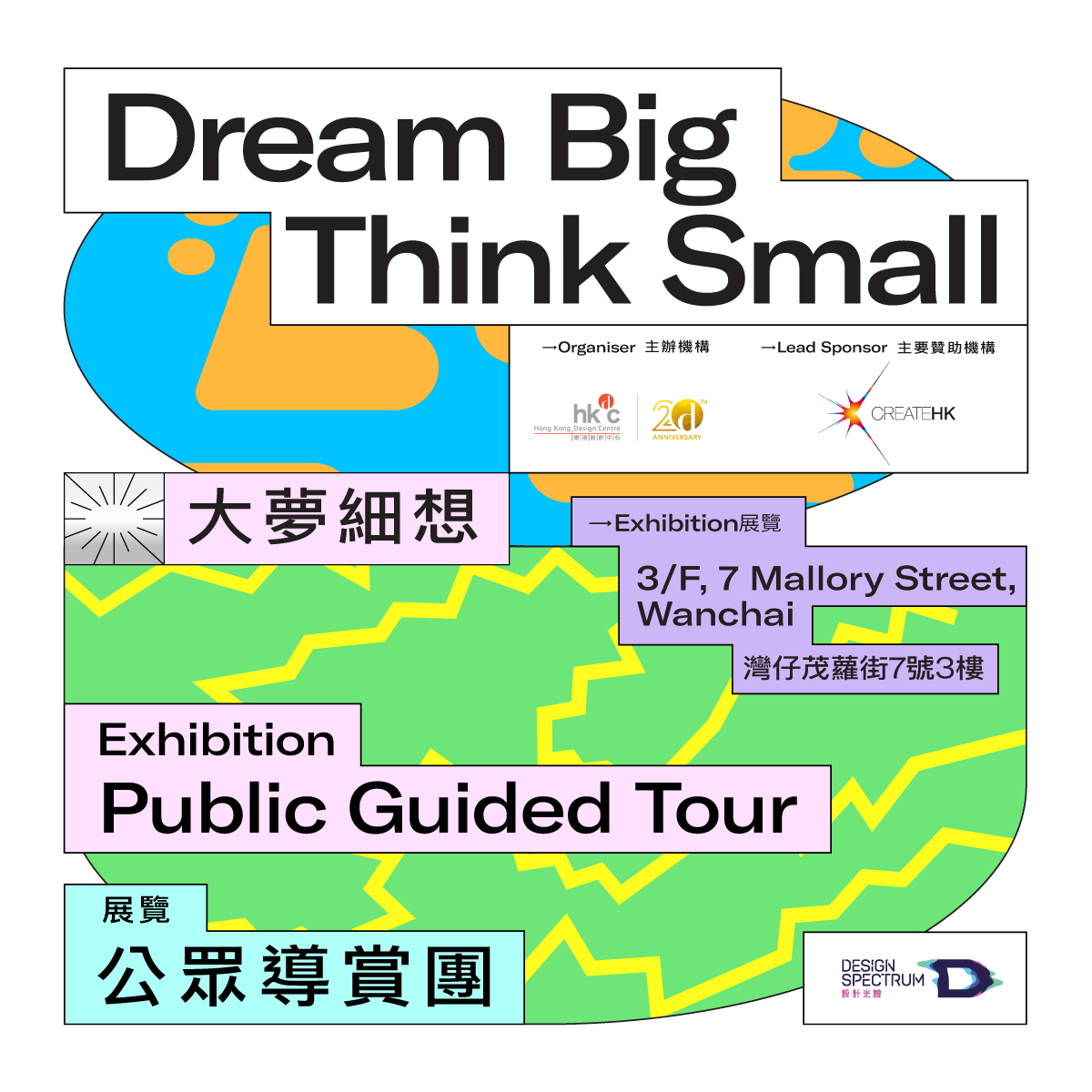 【Dream Big Think Small】Public Guided Tours
Is a 'dream' something we can realise? Can we go on to pursue every little dream? Design Spectrum's new thematic design exhibition "Dream Big Think Small" throws a spotlight on the manifold dimensions of 'dream' from the perspective of 21st Century's design.
The organiser launches a series of guided tours for the public to visit not only the exhibition, but also the dreaming space "Garden in the Weird Dream", a commission work which is specially created to echo with the exhibition's theme. Participants will also have an exclusive experience during the guided tours, in which a complimentary DIY kit set will be provided for each participant to unleash their creativity onsite. Inside this kit set are a "Sodafly" kit, through which  a recycled tin can will be transformed into a wing-flapping toy; and a "Unknown Plant" kit, which lets the participants reconstruct the unknown plants from the "Garden in the Weird Dream".
Remarks: Design Spectrum will invite all public guided tours' participants to upload the photos of their completed DIY works onto their own social media platforms for promotional usage.
Remarks for Participants:
– All participants are required to take temperature check before admission. Participants with fever symptoms will not be admitted.
– Following the full implementation of the "Vaccine Pass" requirement on all catering and scheduled premises, all participants must use the "Leave Home Safe" mobile app to scan the QR code of the venue to be displayed in the venue and  present the QR code of their own local COVID-19 vaccination records (electronic vaccination records) or COVID-19 Vaccination Medical Exemption Certificates in the app to the on-site staff before entering the venue.
– All participants must wear their own masks at all times during the activity. Eating and drinking are not allowed. Participants not wearing masks will not be admitted or stay inside the venue.
– Participants are encouraged to use alcohol hand sanitizer before entering the venue.
– In light of the current pandemic situation, the organizer reserves the right to cancel, postpone or change any details such as dates of all activities. Participants will be notified of such changes through emails or phone calls.
– Hong Kong Design Centre reserves the final right for permission of entering the venue.
DATE & TIME
Specified dates during 2022.05 - 2022.07
NO. OF PARTICIPANT
15
LANGUAGE
Cantonese
Registration
2022.05.29 / 2:30pm – 3:15pm

2022.05.29 / 4:00pm – 4:45pm

2022.06.05 / 2:30pm – 3:15pm

2022.06.05 / 4:00pm – 4:45pm

2022.06.26 / 2:30pm – 3:15pm

2022.06.26 / 4:00pm – 4:45pm

2022.07.09 / 2:30pm – 3:15pm

Registration

2022.07.09 / 4:00pm – 4:45pm

Registration

2022.07.17 / 2:30pm – 3:15pm

Registration

2022.07.17 / 4:00pm – 4:45pm

Registration