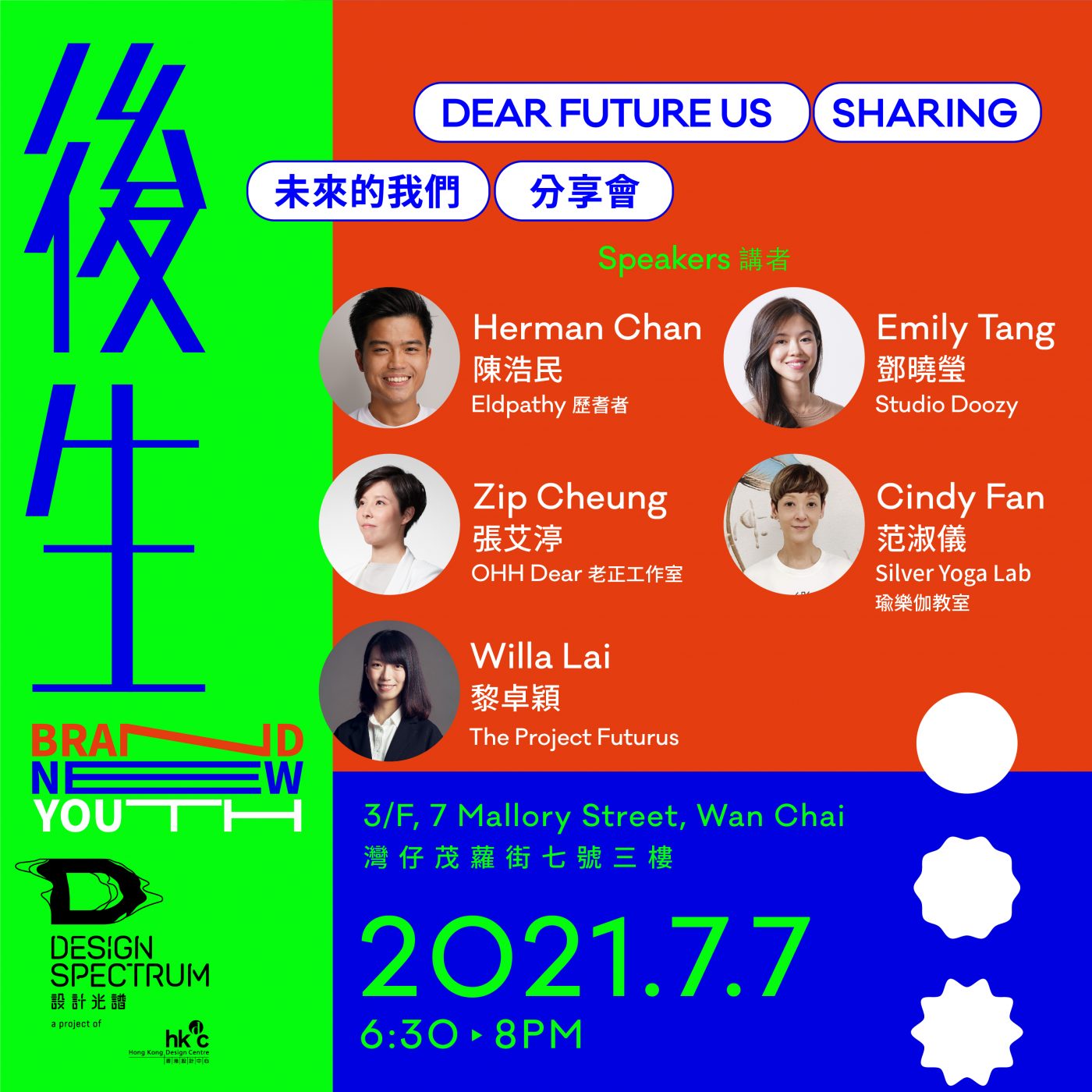 【Brand New Youth - Design Sharing】- Sharing: Dear Future Us
This sharing has been POSTPONED to 07.07.2021 (Wed) 6:30pm – 8:00pm. Should you have any enquiries, please feel free to contact us at 3793 8479 or via email to info@designspectrum.hk
================================================
A number of designers and start-ups serving the elderly will also be invited to "Dear Future Us" Sharing Session to divulge their experiences and introduce their unique designs for the "Brand New Youth".
Remarks for Participants:
A. All participants are required to take temperature check before admission. Participants with fever symptoms will not be admitted.
B. All participants must sign a form confirming they have not confirmed infection for Covid-19 and/ or been under compulsory quarantine imposed by the Department of Health. Hong Kong Design Centre reserves the final right for permission of entering the workshop venue if you are not able to complete or confirm the matters as set out in this form.
C. All participants must wear a mask at all times during the activity. Eating and drinking is not allowed. Participants without wearing a mask will not be admitted.
D. Participants are encouraged to use alcohol hand sanitiser before entry.
E. In light of the current pandemic situation, the Organiser reserves the right to cancel, postpone or change any details such as dates of all events. Participants will be notified through emails or phone calls.
VENUE
3/F Exhibition Area
DATE & TIME
2021.07.07 / 6:30pm – 8:00pm
NO. OF PARTICIPANT
30
LANGUAGE
Cantonese
Speakers
Herman Chan, Eldpathy
Zip Cheung, OHH Dear
Cindy Fan, Silver Yoga Lab
Emily Tang, Studio Doozy
Willa Lai, The Project Futurus
Moderator
OHMYKIDS
Target
Public