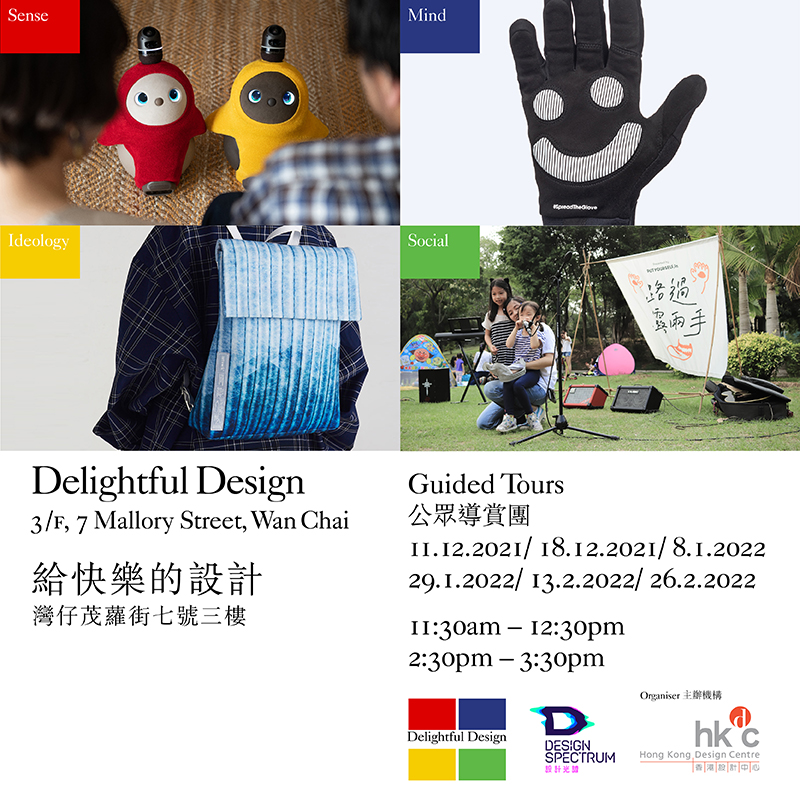 【Delightful Design】Public Guided Tour
"Are you happy?" is a question that human beings have pondered forever. Imagining and shaping a happy life with design and incorporating "happiness" as an essential element of design is something designers think about every day. Design Spectrum will engage the public in a fascinating discourse on how to imagine, measure, and pursue happiness at the exhibition.
Remarks for Participants
– All participants are required to take temperature check before admission. Participants with fever symptoms will not be admitted.
– Regarding to the latest regulation started on 9 Dec, all participants must use the "Leave Home Safe" mobile app to scan a QR code before entering.
– All participants must wear a mask at all times during the activity. Eating and drinking is not allowed. Participants without wearing a mask will not be admitted.
– Participants are encouraged to use alcohol hand sanitizer before entry.
– Enjoy the exhibition and maintain social distancing.
– Children aged under 12 must be accompanied by an adult.
– In light of the current pandemic situation, the organizer reserves the right to cancel, postpone or change any details such as dates of all events. Participants will be notified through emails or phone calls.
– Hong Kong Design Centre reserves the final right for permission of entering the exhibition venue.
DATE & TIME
2021.12 - 2022.02
NO. OF PARTICIPANT
15
LANGUAGE
Cantonese
Registration
2021.12.11 / 11:30am - 12:30pm

2021.12.11 / 2:30pm - 3:30pm

2021.12.18 / 11:30am - 12:30pm

2021.12.18 / 2:30pm - 3:30pm

2022.01.08 / 11:30am - 12:30pm

2022.01.08 / 2:30pm - 3:30pm

2022.01.29 / 11:30am - 12:30pm

Registration

2022.01.29 / 2:30pm - 3:30pm

Registration

2022.02.13 / 11:30am - 12:30pm

Registration

2022.02.13 / 2:30pm - 3:30pm

Registration

2022.02.26 / 11:30am - 12:30pm

Registration

2022.02.26 / 2:30pm - 3:30pm

Registration