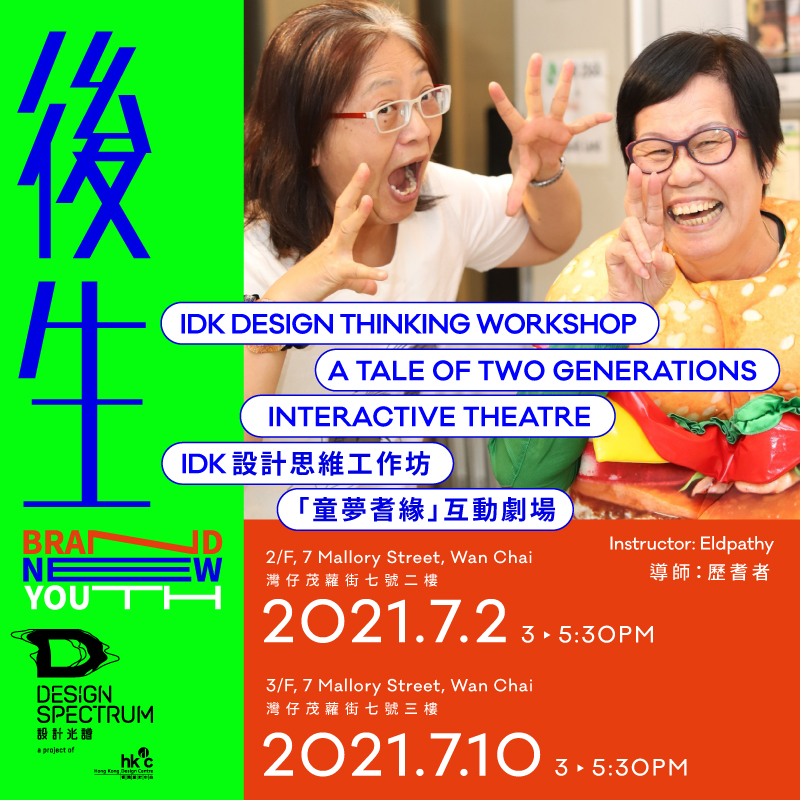 【Brand New Youth - Design Workshop】IDK Design Thinking Workshop: "A Tale of Two Generations" Interactive Theatre
Empathy is at the heart of Design Thinking. This workshop is an interactive journey for you to experience a variety of elderly needs, focusing on empathy as the basis to foster intergenerational communication. The interactive theatre brings you into daily scenarios of young and old, where audience can co-create their desired endings. Participants might also immerse in an 80-year-old's experience by trying out an elderly simulation suit, for an understanding of daily painpoints faced by the elderly.
Remarks: The elderly simulation suit may not be suitable for all participants due to its weight. As a result, staff would arrange this experience session in light of the actual circumstances.
Design Spectrum x IDK Design Thinking Workshop Series
The workshop series aims to explore the inspirations brought by visionaries behind Design Spectrum's concurrent exhibitions, and to re-discover the connections between Design, Creativity and Innovation.
About Institute of Design Knowledge (IDK)
The Institute of Design Knowledge (IDK) imparts design knowledge and innovation training to enhance the competitiveness of local industries by exploring, developing and sustaining innovative approaches in the workplace.
Remarks for Participants:
A. All participants are required to take temperature check before admission. Participants with fever symptoms will not be admitted.
B. All participants must sign a form confirming they have not confirmed infection for Covid-19 and/ or been under compulsory quarantine imposed by the Department of Health. Hong Kong Design Centre reserves the final right for permission of entering the workshop venue if you are not able to complete or confirm the matters as set out in this form.
C. All participants must wear a mask at all times during the activity. Eating and drinking is not allowed. Participants without wearing a mask will not be admitted.
D. Participants are encouraged to use alcohol hand sanitiser before entry.
E. In light of the current pandemic situation, the Organiser reserves the right to cancel, postpone or change any details such as dates of all events. Participants will be notified through emails or phone calls.
DATE & TIME
02.07.2021 / 10.07.2021 /
3:00pm – 5:30pm
NO. OF PARTICIPANT
10 pairs
LANGUAGE
Cantonese
Session A
VENUE
2/F Exhibition Area
DATE & TIME
02.07.2021 / 3:00pm – 5:30pm
Session B
VENUE
3/F Exhibition Area
DATE & TIME
10.07.2021 / 3:00pm – 5:30pm
Eldpathy strives to promote Empathy for elderly by encouraging public participation in elderly philanthropy. To heighten the awareness from our next generation, Eldpathy offers Elderly Simulation Program to develop public's understanding and empathy towards the elderly. The 3Es objectives of Eldpathy's program are Experience, Empathise and Excite.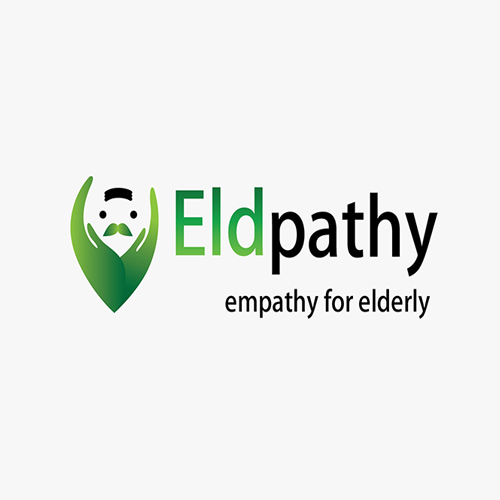 Eldpathy